Barberton Public Library now offers children and teens a library card option called 3 for Me!  
3 for Me Library cards are available for youth under the age 18 years old without an adult signature.Children and teens whose individual accounts are above the fine threshold will be able to apply for a 3 for Me card. For example, if a child owes $10.00 in overdue fees, they are currently not allowed to check out anything from the library.  
Details: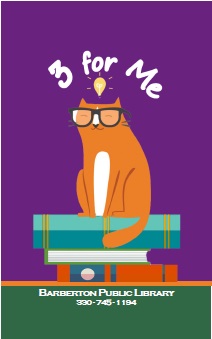 A 

3 for Me

 library card will allow them to check out up to three print materials. 

They also will be able to check out e-media owned by the 

Barberton

 Public Library. 

These cards will not accrue any late fees. 

Lost or damaged fees will apply to 3 for Me

 cards, but 

3 for Me

 cards will not be referred to a collection agency should the replacement costs exceed $50.  

This card does not grant the child or teen Internet access or the ability to check out audiovisual materials. 

Juveniles must be able to write their name and provide their date of birth and contact information in order to be eligible. 

3 for Me

 cards will be valid only at 

Barberton

 Public Library. 

A child or teen may have two library cards, one of the

 3 for Me

 and one regular juvenile card.  
We hope this library card option will help children and teens who previously did not have access to print materials at the library!