Programs and resources available at the Barberton Public Library for children in grades 4 - 8.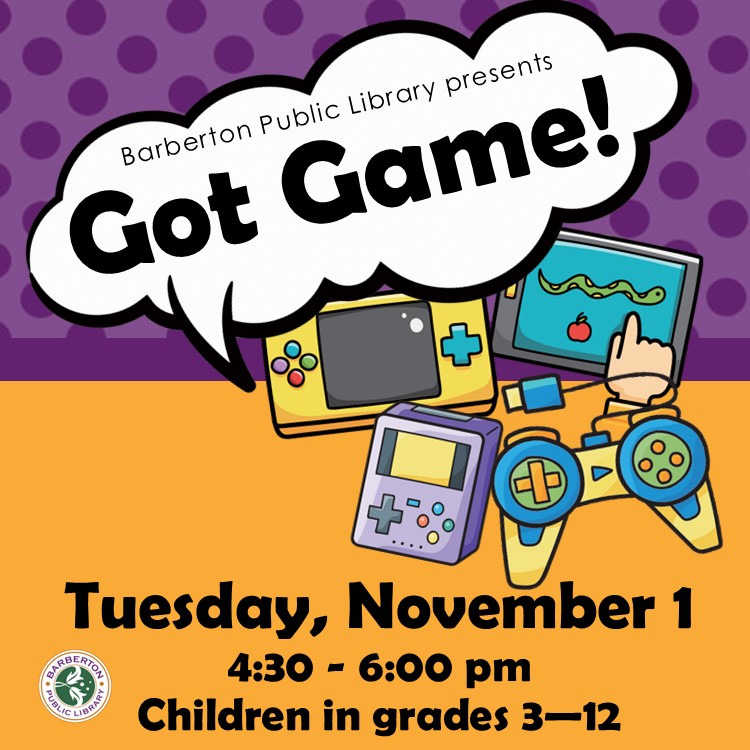 Got Game!, is a quarterly program that provides kids & teens, in grades 3 - 12, with a fun and relaxed environment in which to interact and build positive relationships with Barberton police officers. The Library provides a variety of games and refreshments, while allowing kids and officers time to relax and challenge each other to a game of Giant Connect-4, start up a big game of UNO, or sit down to a game of checkers. A variety of other games are available to play, and kids & teens are also able to select a book, that is theirs to keep.
---
Virtual Tween Game Room, visit anytime you want to play Pac-Man, solve a Rubik Cube, make music and more!
Children's Makerspace - Through a grant from the Barberton Community Foundation and the generosity of the both the Barberton Kiwanis and the Magic City Kiwanis, the library has been able to purchase a variety of supplies and equipment to create a Makerspace in which the children of Barberton can build, discover and create. This fall, we will offer a variety of activities related to our Makerspace through Take & Make activity bags and activities here on the website. We want to give kids a chance to experience our Makerspace, while we wait for the current health situation to improve. Makerspace activities may be offered in person at the library, stop by anytime we are open to see what we have available.
Homework Databases - Need help completing homework or a research project? These databases can help!

Book Lists - Browse a variety of book lists for children, on subjects ranging from award winning books to difficult subjects such as divorce and dealing with loss.​​

Bestsellers Club - Sign up for the Bestsellers Club for kids and the children's librarians will put popular titles on hold for you!

Miss Alison's Pick of the Month - Check out some of Miss Alison's favorite from the past decade.​