Summit Memory
The Local History Room is a proud partner of
Summit Memory
, an online scrapbook dedicated to the history of Summit County, Ohio, sponsored by the Akron-Summit County Public Library. Through Summit Memory, visitors can view exhibits of photographs, postcards, letters, historic documents and memorabilia, browse and search collections, and order reproductions. The Barberton Public Library has provided images of some of its collections, including:  
Anna Dean Farm Collection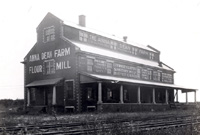 More than 30 images of the 3,500-acre scientific farm in Barberton, Ohio,
established by wealthy industrialist and founder of Barberton, Ohio C. Barber.    

O.C. Barber Mansion Collection
More than 40 images of the opulent mansion
built by wealthy industrialist Ohio C. Barber.
Barberton Churches Collection
A collection of photographs and postcards
of historic Barberton churches.